When I was in high school I dated this boy. He was on the varsity soccer team, had bleached hair, wore skater shoes, was way cute, and rocked out to Blink182 all day long. He didn't care much for school or homework (unless it was a project with his girlfriend/super-hot chemistry lab partner.)
Fast forward nine years, and you might do a double take. Because this boy is now my husband, and not only did he earn a double major in college, he went back for grad school, and he now reads books FOR FUN, and while he still enjoys the occasional Blink182 on his iPod, his hair is a normal color. He's still super cute, and this past weekend he graduated with a Master of Arts in Teaching (MAT) in Business Education, because of all things, Dylan wants to be a high school principal.
Ignore for a moment the photographic and artistic quality of the image below and look at my baby walking across the stage!! (Seriously, cut me some slack, they don't light those arenas very well.)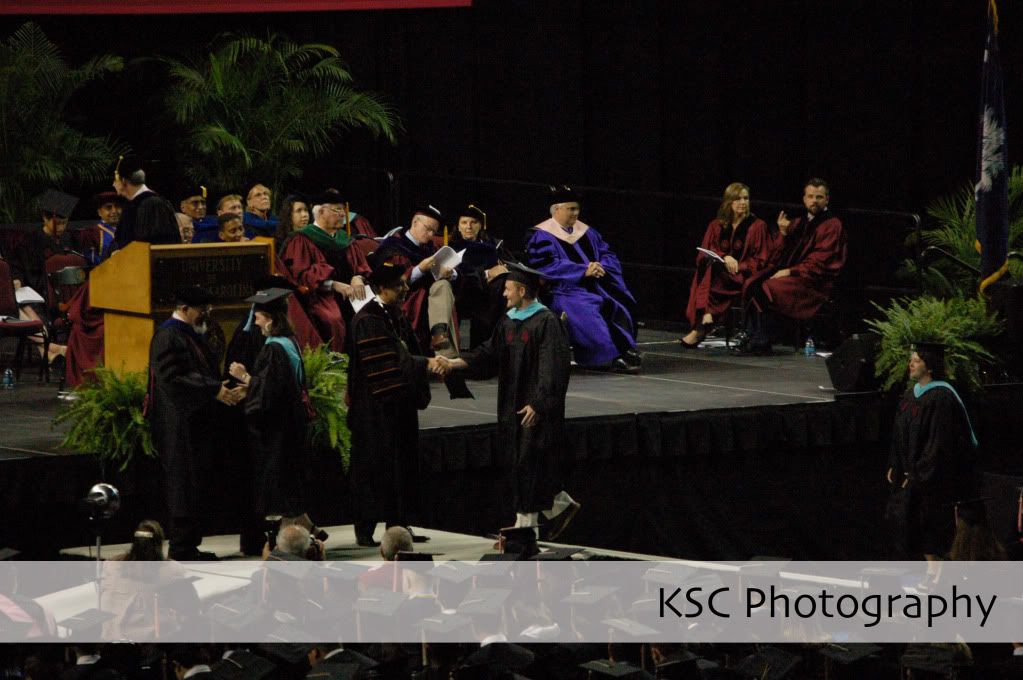 Dylan, I couldn't be more proud of you right now, and I am so excited for your new teaching career and God's plan for you. You've worked so hard over the past 18 months all while still being the bestest husband ever. You're going to make a phenomenal teacher and soccer coach, and an even better principal. You're pretty awesome.
I haven't really had time to sort through all my images from the weekend, but I have much more to share: a beautiful Saturday morning photo session, more of Dylan's graduation, a bridal shower for my best friend, and some more of sweet baby Cayden and our friends out at the lake. So check back soon- I'll be posting as quickly as I can!