Well hello March. I look forward to you every year! And not at all because of basketball... I don't do basketball. But March is good for other reasons. March is the month I got married. March is the month that spring starts. I think there's a good reason that February is only 28 days- people wouldn't live for another three. I'm no winter-hater but I think that February just gets blahhh. Now that I've gotten my final snowstorm of the year I am ready to move on. It's like closure. March is neat just cause it's March. It feels like warm weather is in sight off in the distance and there's a tinge of hope that someday, the plants on my back porch will (crossing my fingers) turn green again. It means that we get to do spring cleaning soon, and you guys KNOW how much I love cleaning.
...aaaaaand I can't think of a good segue into my promo announcement, other than I also love March because I am running a great special.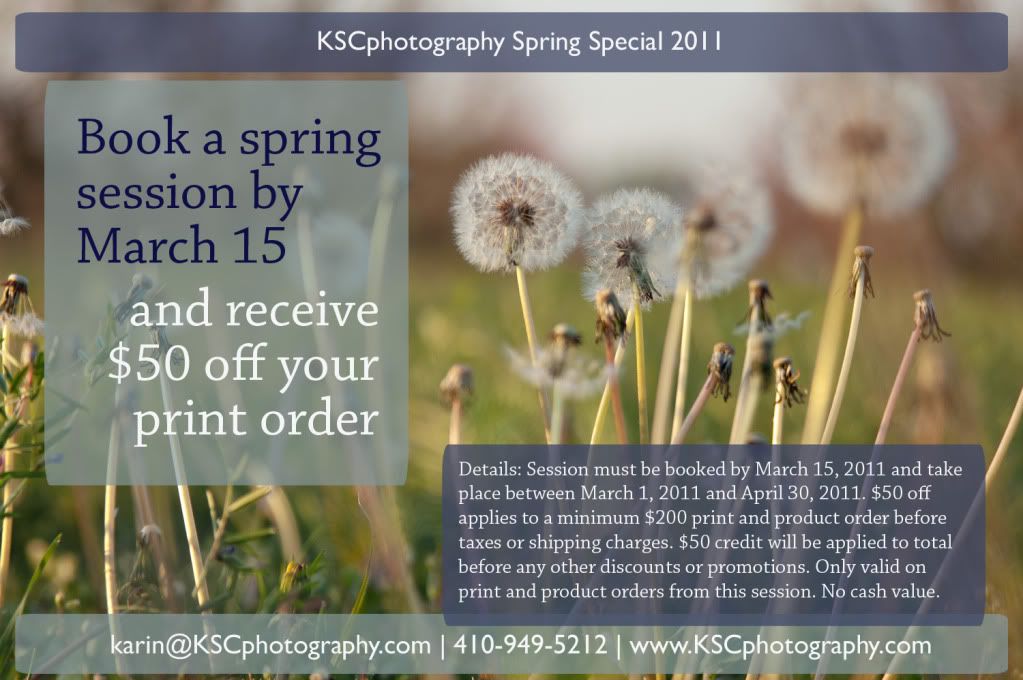 Yep that's right, all March and April sessions booked by March 15 will receive $50 off a $200 print/product order!
Now I don't mean to get all technical, but let's follow the rules. In case you can't see the image above:
Session must be booked by March 15, 2011 and take place between March 1, 2011 and April 30, 2011. $50 off applies to a minimum $200 print and product order before taxes or shipping charges. $50 credit will be applied to total before any other discounts or promotions. Only valid on print and product orders from this session. No cash value.
If you've got any questions, feel free to call or send me an
e-mail
. Yaaaay spring photo sessions!